Barbara J. Andrews, Editor-In-Chief, SAAB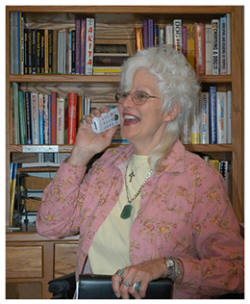 She has been, since the late sixties, a writer for Dog World, Working Dogs, Kennel Review, Canine Chronicle, the AKC Gazette, and since 1993, masthead columnist for ShowSight Magazine. Mrs. Andrews has authored eight Breed books published in multiple languages, including World Of The Akita (Breed Book Of The Year Nominee), The Chihuahua, and The Miniature Bull Terrier.
Taking time from their Tri-State Plumbing company, she and Bill developed the world's first dog-site TheDogPlace in 1998 followed by the first digital dog news site, TheDogPress, and more recently, TheJudgesPlace.
"BJ" and husband Bill (deceased 2005) set numerous breed records as owner-handlers. Barbara Andrews is the breeder of over 290 AKC Champions, record-breaking Group and Best In Show winners, All Time top Reg. Of Merit Akitas (6 are still in the Akita Club Of America top 10 sires and dams), and countless international Chs. from a breeding program never exceeding 12 dogs.
The Andrews fell in love with Bull Terriers and on a trip to the U.K., BJ discovered the Miniature version! They imported a total of 11 Mini-Bulls from England, placed most of them in pre-arranged homes and founded the Miniature Bull Terrier Club Of America.
BJ is known for exploring and promoting new breeds but has been devoted to the Toy Fox Terrier since 1999 when they acquired their first TFT.
She is also a proud member of the dog world's first Science and Advisory Board and currently president of the NetPlaces Network.
Direct Questions to: BJA@NetPlacesNetwork.com
© NetPlacesNetwork.com 200815122003-10 https://www.netplacesnetwork.com/Writers/Andrews-Barbara.asp

Back to NetPlaces Network Writers