MEG PURNELL-CARPENTER
"Dog Lady Extraordinaire"
Mrs. Carpenter judges around the world and has also become known as a judge par excellence in the U.S. She is a legendary breeder of working (employed by security and police agencies) but Meg is champion of all dogs.
Meg founded the Overhill Kennels in 1978, having first had a boarding kennel at her parents Overhill Farm, from which she took the Overhill name. She quickly developed the picturesque property in the small village of Pensford (near Bristol) into a licensed Quarantine Station which was separate from her small breeding facility.
Meg's fine sense of business and understanding of what dog owners need also led to the development of a complex Import-Export business when there were such strict international restrictions. The professional staff safely and efficiently moves animals around the world whilst Meg will be seen at the Overhill Trade Stand where everyone comes to visit and purchase unique products while at the shows. If she thinks of something that dog people need, often before they have realized they need it, Meg will have it sewn, built, or manufactured!
Born in 1941, Meg Carpenter packs a minimum of 28 hours into each and says that it is her three children who enabled her to enjoy a full judging and travel schedule. Rachael and Lisa are on premises daily, directing staff and insuring the smooth operation of the multi-faceted Overhill business as well as the impeccable care of both personal and Quarantine kennels. Her son was off to a top college in 2019.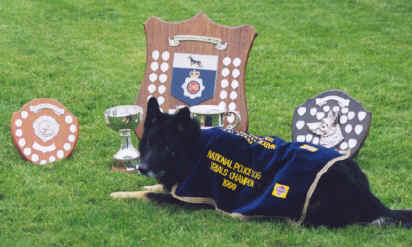 Meg bought her first German Shepherd when she was 15 and bred her first litter only two years later.She has trained GSDs with Bristol Dog Training Society and typical of Meg, she went on to become an instructor.
Today she breeds show and working German Shepherd Dogs, the latter supplying police and prison dog handlers and working trials enthusiasts.
Meg Purnell-Carpenter is the breeder of a Working Trials Champion, the Prison Service National Champion, and a UK Police Dog Action of the Year award winner. In 1999 one of her homebred German Shepherds won the title of Police National Champion. To put this in perspective, it would be like winning the Top Place Obedience, Working, Schutzhund and Service titles for the year - all with the same dog! It is no wonder the Overhill "working" bloodline is so eagerly sought by international police agencies.
Her greatest love became the Akita when she accepted into the quarantine block two O'BJ dogs en route to Australia. She fell in love with the breed and imported two bitches from the same kennel. Her much–loved O'BJ White Hope she credits with being the foundation of the Overhill Akitas and Am. Ch. O'BJ Sachette No Okii Yubi is dam of the first UK bred Akita litter.
Overhill Kennels has produced Champions in eight countries and Meg Carpenter was thrilled to attend the World Conference on Akitas in 1998. She served as Chairman of the British Japanese Akita Association and as one of the first and certainly the most knowledgeable on the breed in her country. She published a book on Akita bloodlines which was a tremendous reference source for all Akita fanciers.
Her fascination with dogs led her to introduce the French Beauceron and the Korean Jindo to England but it doesn't stop there. She is Secretary of the British Utility Breeds Association, Chairman of and a tireless worker for the South West Show Centre Supporters Association and she oversees the glamorous South West Contest of Champions which raises money for the center.
Meg Purnell-Carpenter is a board member of The Kennel Club and of Chair of its Breed Standards and Stud Book Sub-Committee, positions that equate with being on the Board of AKC and serving as Delegate.
Just to make sure she can still move at the speed of light, in 2003 Meg competed in a nine-mile race in fancy dress and a charity fund-raising cycle race. She has since had a hip replacement but this has in no way dampened her her schedule of judging appointments around the world.
She says one of her greatest honours was judging Polish Lowland Sheepdogs in Poland. When Meg judged Akitas at the largest show in the world – the Crufts Dog Show, she drew a record entry. In 2017 she judged the telivised Utility Group at Crufts awarding the Newfoundland to worldwide approval.
Meg Carpenter supplied dogs for the television series with the original TV vet, James Allcock. She managed the pop group K-9, is a breed note writer for the canine weekly papers and currently owns peacocks, Akitas, German Shepherds, Beauceron, a lurcher, and a parrot called Tarzan.
Meg Purnell-Carpenter's contributions to the sport are legendary. For more photos and in-depth information, visit the Overhill Kennels and Exports Website
Copyright © NetPlacesNetwork.com 2004191020S09 https://www.netplacesnetwork.com/SAAB/Purnell-Carpenter-Meg.asp