Dr. Peter Emily DDS, Hon. AVDC, SAAB Member
Dr. Emily is an accomplished human and veterinary dentist with a career spanning over 40 years. He received his Doctor of Dental Surgery at Creighton University, Omaha Nebraska and his Certificate of Periodontology from the University of Pennsylvania. Dr. Emily later went on to receive his post-graduate certification in Pediatric Dentistry, Endodontics, Oral Surgery and Restorative/Prosthetic Dentistry from the Dental Division of Denver General Hospital.
Dr. Emily is an Honorary Diplomat of the American Veterinary Dental College and the Academy of Veterinary Dentistry. He currently holds the position of Faculty Affiliate of Animal Dentistry at Colorado State University, School of Veterinary Medicine, is a past Dental Faculty Affiliate at the University of Missouri at Columbia, and performs Exotica Animal Dentistry for the Denver Zoological Gardens.
Dr. Emily has also worked extensively on the biomechanics of movement and kinesiology. Dr. Emily is past president of the American Veterinary Dental Society (AVDS). When the AVDS sought to become a board specialty, Dr. Emily was one of four veterinarians who approached the specialty board to understand the requirements for board recognition. He was later one of the three veterinarians who developed and administered a 3-part exam process for acceptance into the College of Veterinary Dentistry, and this same 3-part format is still used today.
When Peter Emily graduated from dental school in the 1960s, the standard operating procedure for animal dentistry was limited to cleaning and extractions. Dr. Emily became involved with judging show dogs and in the capacity as judge, was regularly coming across dogs born with such problems as defective bites and missing teeth. An innovator and inventor, Dr. Emily adapted the tools used in his human dental practice to be usable in the reparation of animal dental problems.
As an AKC Working Group judge. Dr. Peter Emily began judging Doberman Pinschers – his foundation breed - the late 1970s, and has judged at the US National Specialty four times. Dr. Emily has also lectured all over the United States on the biomechanics of movement for dogs. As a consultant for the Veterinary Information Network (VIN) he has helped the animals of Siegfried and Roy. The Denver Zoo also calls upon Dr. Emily to perform repairs on the beak on hornbills and toucans, as well as caring for kangaroos, wild dogs, polar bears, grizzlies and orangutans, to name but a few of the many species. In the early days, many zoos did not have the proper facilities for working on exotic animals, so improvisation was key. For example, at the Denver Zoo, Dr. Emily improvised, using the hydraulic lift of a pickup truck to perform a surgical root canal on a polar bear.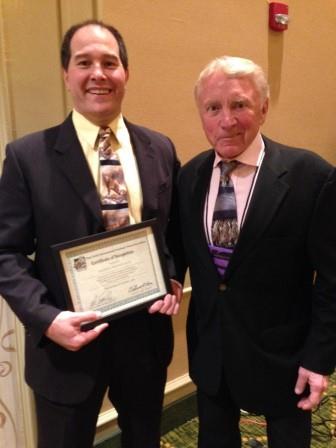 Dr. Peter Emily is pictured here accepting the PEIVDF Service Award in 2013, selected by his peers in exotic dentistry. He has also worked on animals in the wild, such as a black-footed ferret, for which he fashioned a gold tooth. Through Dr. Emily's efforts, in the mid 1980s, Colorado State University was the first school to offer a course in Veterinary Dentistry to students and practitioners. He has written and presented extensively including author and co-authorship of three veterinary dental textbooks and multiple dental publications and manuscripts. Dr. Emily has lectured extensively on all phases of animal dentistry for over 20 years to veterinary groups and dog clubs throughout the USA, Europe, Australia, New Zealand, China, Brasil and Japan.
Although semi-retired, Dr. Emily continues to work with the Denver Zoo, Siegfried and Roy, Deer Creek Animal Hospital and often on any interesting case that is put in front of this ever- curious innovator and lover of animals.
When not working in the mouths of people and animals, Dr. Emily serves as the Dental Consultant and Conformation Judge for the American Kennel Club. However, Dr. Emily devotes the majority of his time to working with the foundation he started – the Peter Emily International Veterinary Dental Foundation – providing veterinary dental services and education to exotic animals around the world residing in sanctuaries, shelters, and zoos.
The NetPlaces Network is honored to have Dr. Peter Emily as a Science And Advisory Board member.
Copyright © NetPlacesNetwork.com 135169 https://www.netplacesnetwork.com/SAAB/Emily-Dr.Peter-SAAB-135.asp