Wallace H. Pedé
Lt. Col. U.S.A.F. (Ret)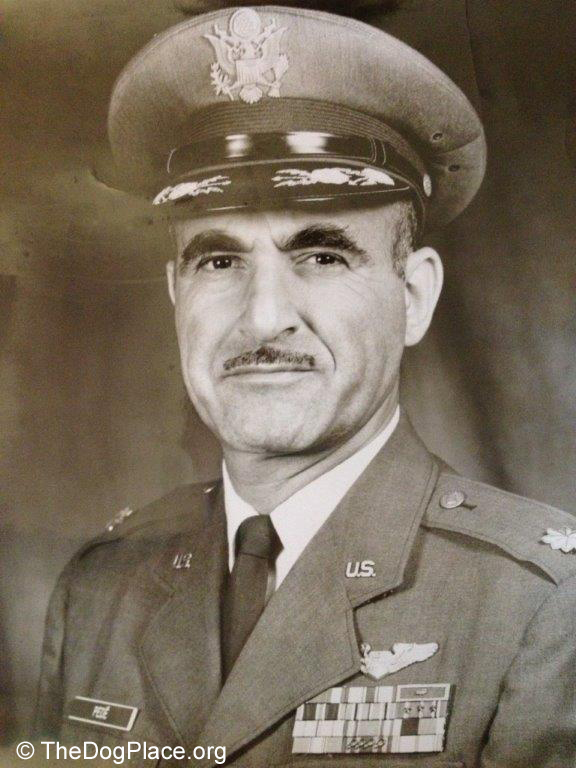 Wally Pedé started his judging career in England while stationed there with the Twentieth Tactical Fighter Wing in the 1950's and it was there that he and his wife Kay established their Scheherezade Afghan Hound Kennel.
Col. Pedé, handling his own dogs, had the top winning BIS Hound in England in 1960 and is the only American to win a Group at Crufts (England's Westminster). Wally and Kay also became breeders of the top-winning Afghan Hound in Europe in 1961 and 1962.
Wally, as he is affectionately known by his peers, has since judged dogs around the globe, from England's premier dog event, the Crufts Dog Show, to its counterpart in the U.S., the Westminster Kennel Club Dog Show. He has also judged the leading International shows in Scandinavia, Australia, New Zealand, and the Orient.
In 1983, Col. Pedé co-founded the Senior Conformation Judges Association, Inc. (SCJA) and subsequently, he also founded the American Canine Education Foundation, Inc. (ACEF). The ACEF is the only organization in the country recognized by the IRS as a tax-exempt educational organization for the sole purpose of educating Breeders, aspiring Judges and Approved Judges.
In 1990 Col. Pedé was awarded the prestigious KENNEL REVIEW and IAMS achievement award for "OUTSTANDING CONTRIBUTIONS BY AN INDIVIDUAL" and was nominated for this award in both 1991 and 1992.
Col. Pedé was also nominated for the FIDO award as "MAN OF THE YEAR" in 1990, 1991, and 1993. That astounding record of honors puts Wally Pedé in a rare category of judging popularity and intellectual acuity.
He and his son Wally Jr., attended the V-Day (WWII Victory) celebration in May. There, in Washington D.C., following the National Anthem fly-over, he was honored by an impromptu network interview. Visit VIDEO THEATER for Col. Pedé's NBC Interview on VE Day May 8th, 2015.
Visit the Two-Day ACEF Judges Institute held in Vegas, 2008 or read the 2017 "Meet Lt. Col. Wallace H. Pedé, AKC Judge Emeritus"
The Colonel turned 96 in July 2019. He is sharp as a tack and still active as CEO of both SCJA and ACEF.
Copyright © NetPlacesNetwork.com 1505169r1707 https://www.netplacesnetwork.com/SAAB/Pede-Lt-Col-Wallace-150502.asp